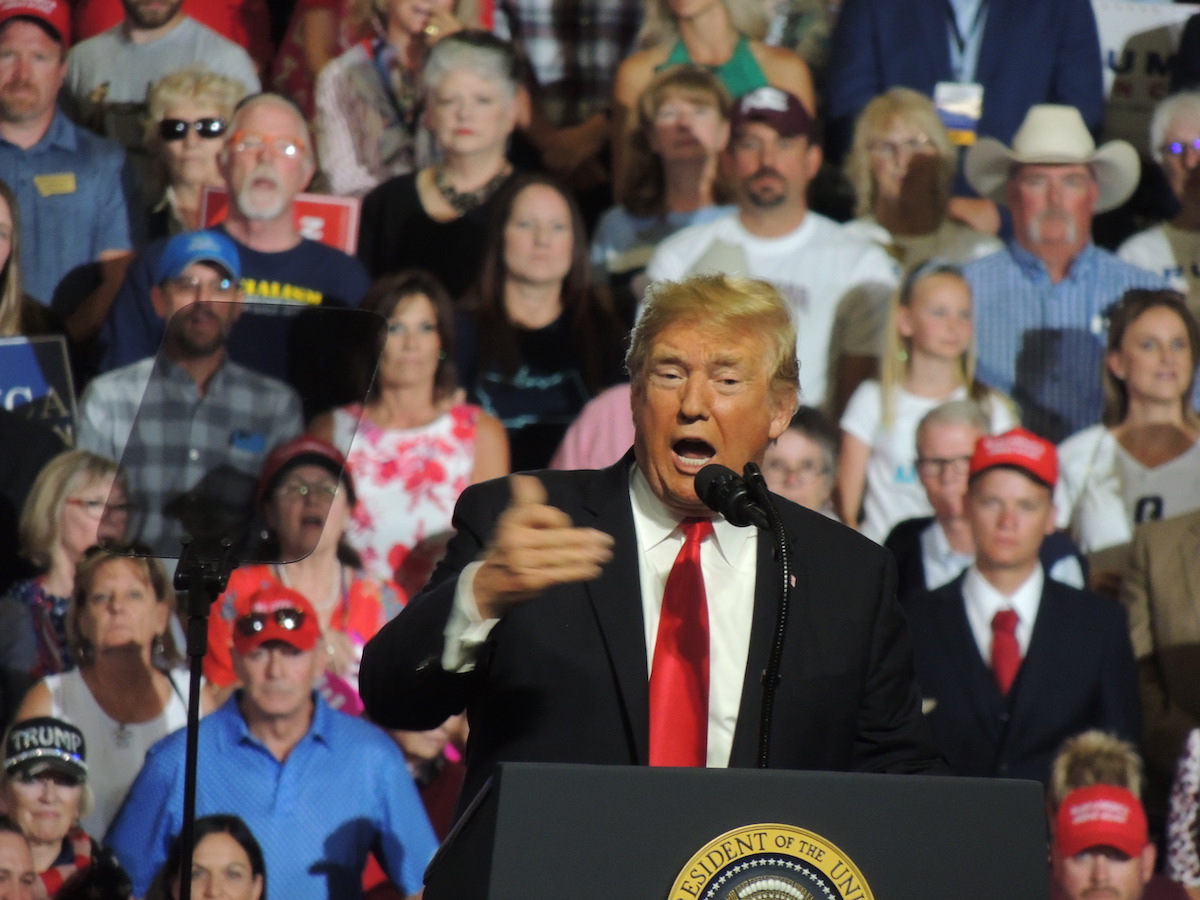 I've studied Trump. I read three of his books, follow the news and  launched newlibertarians.com because of his election. Vladimir Putin is Trump's most admired living person. Trump is the most powerful man on the planet, for the moment- but Putin has enjoyed the privilege of being in the top three most powerful people on the planet for the last 20 years, and he expects to continue to be so for another 20. He's also the richest man on the planet, as the result of that huge and enduring power. Trump especially admires that.
Xi Jinping of China is the third of the top three, and while his reign over the second (and likely soon to be first) largest economy- one which dwarfs Russia's- has been made permanent, and his power could exceed Putin's…but he's not white. Trump is a white supremacist, and being of another race lowers his value in Trump's eyes. In Trump's mind, he's about to have the most important meeting of his entire life, in a life which has been defined by important meetings.
First thing Trump will want to do is thank Putin for getting him elected. Without Putin's help, he couldn't have done it. Trump knows it, Putin knows it- and when Mueller's case is done, everyone will know it. It's been a wild ride, and both men have been greatly thrilled and enhanced by it. For Putin, it's payback to the U.S. for having engineered Boris Yeltsin's corrupt  and ineffective regime, humiliating Russia on the world stage- which brought him to power. The two men's destinies are intertwined, and the result is now becoming fixed in history. Geopolitically, the two leaders of the Caucasian world need one another to prevail over an expanding China, and the non-white invasion of immigrants which threaten to overtake white supremacy from within. For Trump to publicly trash England, the EU and NATO ( a small indignity) on his way to the big summit sets the stage for political theatre which could cause a historic realignment of world power. It's a very big deal.
I'd love to be the fly on the wall at that meeting.
BreakingNews: 

7/14/2018: Trump insults everyone.
This, of course, is hardly "Breaking News". Trump has always insulted everyone. He's saying, simply…"Sit down and shut up! I'm the one everyone should be paying attention to."  He does the same thing wherever he goes. This week it's Europe, England- and the next stop is Finland. It works for him. And when they do what they're told, his fans feel confirmed in their belief that he is, in fact, the one to pay attention to. And it will last as long as he's President- which might not be for much longer.
We should enjoy it while we can. He's right about a lot of what he says, and his confrontational approach has catalyzed long needed changes in how everyone does things, in domestic as well as foreign policy. Like his predecessor, he was elected by those who wanted change. By contrast to his predecessor, he's a whirlwind of change- and the establishment's corrupt defenders of the status quo don't like change. Trump commands respect. Obama couldn't. But Obama lasted eight years, and Trump likely won't.
Mueller is closing in fast. On the eve of Trump's hastily planned Putin summit, Mueller indicts top Russian intelligence officers in the Russia election tampering probe which has ensnared Trump's campaign manager, his lawyer, his national security advisor, and the circle is closing in on Trump's family, and soon the President himself. The Republicans up for election in 2018 are looking at one another nervously while they cling to the listing ship, headed for an iceberg- trying to decide whether to help the captain or look for a lifeboat. Mueller will give them one.  His investigation will reach a hiatus, and they'll hold back for the elections- on the theory that they could be unfairly disruptive. So, he's got to get as much of it out now- while he still can- so that the electorate will be as fully informed as possible, and he'll avoid being accused of withholding information voters need to make an informed vote.
Imagine…
An inspired person with a new idea for a solution to a local problem thought it would be fun and interesting to run for office.
He could join one of the two major parties, work for a few years on party campaigns, prove himself a devoted team player comfortable with party ideology, make some wealthy friends, make some secret promises – and then, maybe, after waiting for a seat to become vacant he might get a chance. That's the usual way it's done, and that's why the status quo doesn't change.
Imagine– instead- he could go online to newlibertarians.com and enter an online primary for a Libertarian Party spot on the ballot. He could express his new idea to a wide audience, interact with others in the primary in online debates- see his idea debated, defend his view and attract a following, raise money without needing to make deals in return.
Imagine he could learn online what his constituency wants and needs, and pledge to support it- because he has a powerful interactive WebTheme. Imagine his constituents knew before they voted for him they would be able to hold him accountable once he was in office, and make it difficult for him to become corrupted- and if he did know he did immediately, and instantly recall him.
This website is designed to make that possible. There will be Rules, and one of them will be to Register with us, as well as to Vote. This website is under construction, we can't take your registration data,  we can't process the polls, you can't enter the blogs or even donate…yet. We hope to be fully functioning by 1/1/2018 in time for the 2018 primary. At this point I'm looking for suggestions how to make this website better. You may e-mail me at:
I appreciate your suggestions. Thank you, Chris
The New Libertarians
The New Libertarians is a grass roots effort to reform American politics standing on the foundation idea that the Constitution and the  Bill of Rights  provide the remedy. Both can be read by the average American in less than one hour. They're written in plain English intended for an 18th century American colonist to be able to understand. Along with the Declaration of Independence, these are our Founding Documents. The elections of 2016 demonstrate that the current system doesn't work. Corruption is rampant. We're at war all over the world- and the wars are expanding. The rich are getting richer as the middle class is shrinking. Taxation is regressive. Other nations have better healthcare and education- at a much lower price. We imprison more people than any other nation- and at a higher rate than any other nation. The nation runs huge deficits, while the wealthy pay few taxes. Many Americans are underemployed and unemployed, despite crushing education debt. The money in politics is overwhelming, and corrupting. There are so many rules, regulations, prohibitions, taxes, fees and red tape written to benefit the few at the expense of the many- Americans are beginning to forget we live in a Free Country. The People are starting to become aware that the Republicans and the Democrats don't offer any good options. They argue about Hot Button Issues which never change- but divide the electorate in half- into two fiercely loyal teams. The result is Gridlock, and no change to the status-quo. This is not unintentional. We are expected to choose between the lesser of two evils, and have no expectations they'll serve us. And they don't. Some of us wonder if the differences between the Republicans and the Democrats are real or just Illusions. In the election of 2016 we had a choice between one presidential candidate, a unapologetic Republican Plutocrat- who bragged about corrupting politicians- claimed he knew all the rules and how to cheat… and another-a Democrat who defends her own corruption saying, "I play by the rules of the game". Both claim to want to change them, but they've both prospered under the rules- as they are. Each asks us to believe that they will change the rules of the game which has made them so successful- IF they win the election. Many of us think they're lying. The winner will get a chance to prove us wrong- but won't. Then what will we do? In 2016, 45 years since they were founded- the American Libertarian Party now has ballot access in all 50 states- and most of it goes unused. The classic Libertarian values of Peace, Limited Government, Non-Coercion, Non-Intervention, Non-Prohibition, Prosperity, Civil Rights, Equal Opportunity, Free and Fair Trade, Fair Taxes, Choice, Individual Liberty and Responsibility are widely shared throughout America. We seek to grow the party and make our candidates viable in all elections. We intend to begin at the bottom of the political structure- the State Representative. We want to be a Libertarian, grassroots, "bottom-up" organization, not an authoritarian "top-down" structure like the Republicans, the Democrats- and too many of the current Libertarians. We'll actively recruit candidates and give our candidates the Candidate Website tools they need to learn what their constituencies want from them- and then encourage them to Pledge to represent their Constituency and the Constitution – not the Party, the Party Ideology, or the Big Money behind the Party. We will be inclusive of all types of people and their ideas- men, women, married, single, minorities, youth, elderly, centrists- including Democrats, Republicans, Greens, Reform, and others- and we'll enable debate about everything, including the US Constitution and the Bill of Rights. We intend to be 100% unbiased- and without an agenda except to protect the Constitution and the Bill of Rights, enable the electorate to make Informed Choices , and change-enabling ballot Referendums when they vote- and to vote! We encourage everyone to call us on any bias- real or perceived, no matter how small- and we'll address it. The computer and the Internet make REAL Democracy possible today to an extent the Founders could never even DREAM of. The US Constitution gives us the power to change things peacefully- by voting. Half of Americans rarely vote and they are a huge untapped resource. We can turn the government upside down every two years, if that's what we choose to do. Our next opportunity to change things will be the elections of 2018, and we intend to be ready- with YOUR help.
Please don't take this poll yet! It's still under construction.
I've posted it because I'm soliciting comments on it during construction, so when it's launched it is what it needs to be. Its purpose is for me to see who is interested in the newlibertarians.com idea, what aspects of it interest you most, find people who want to be part of it  and contribute to the effort.
Everything worth doing costs- in time, effort, thought and money. This project is going to have to progress beyond the "one man band" it currently is- or it's just a hobby to entertain myself at my own expense. Limited by my own meager resources, it'll never amount to anything.
Using internet polling to fathom the Will of the People is intrinsic to our idea, but doing it right takes time, skilled work currently beyond my own abilities… and money. I don't believe in "donations". Quid pro quo, "something for something", is the basis of all honest commerce between people. I'm going to ask you to invest in our enterprise, and this poll is to identify who you are and what you want us to be.
E-mail me at wallhangergun@gmail.com. Thank you.
Chris
Please Take Our Informational Poll So We Can Better Serve You.
I tell everyone they must vote- it's an important responsibility- and today I had to vote myself. I could have skipped it, easily. I usually vote the Democratic primary ballot, and there were no choices to be made. All the action was on the Republican side. I have a Republican pal running for US Senate, so I thought I might cast a vote for him- just so I could say so. He has no chance (because he has no money) but at least my ballot would be worth something. Maybe he'd buy coffee the next time I saw him at the coffee shop.
Then I noticed there was also a Green Party Ballot in the absentee ballot envelope. Never saw one of those before. So, I googled the candidates. Saw one I liked, a one-time Libertarian running Green for US Senate. "OK," I thought."The Greens got on the primary ballot, but the Libertarians didn't. Maybe I'll vote the Green ballot."  So I did. I'll vote Libertarian in the general- but Green was the best action today.
The only interesting issue on the primary ballots (all of them) was about a guy who wants to sell bottled water from his artesian well, and his neighbors want to prevent his doing so- by rezoning his land without his consent. They claimed to be "protecting our water", but his water comes from a deep well from a different (and huge) Canadian aquifer- so (in my opinion) that argument is disingenuous. They just don't want a bottling plant in their neighborhood. Plus, if you wanted to vote "No" on the bottling plant, you had to vote "Yes" on the initiative. I can't see anything wrong with selling water, if someone wants to buy it. I don't buy bottled water, myself, but it might be good advertising for the community, and could lead to more (relatively clean) jobs, by comparison to the mining, logging, ranching we're historically used to. So, I felt I couldn't skip it. So, on that issue I voted "Libertarian", but not necessarily "Green".
On my way out I signed a petition to put extra environmental requirements on new hard-rock mines. That would be "Green", but not "Libertarian". "Too bad they didn't do that 100 years ago," I thought. Montana has some horrible toxic waste from past mining, which the taxpayer is stuck paying to clean up- and can't afford to.
November will be a big- I definitely won't skip that one.